Getting to The Outer Hebrides is easier than ever before! You can get here by car, train, coach or even by air. Discover how to get to Harris below.
By car
The two main driving routes to Scotland from the south are via the east of England on the A1, or via the west using the M6, A74(M) and M74.
The A1, which passes by Peterborough, Doncaster, Newcastle and Berwick-upon-Tweed, gives you the option of branching off onto the A68, which takes the hilly but scenic route over the border and adds around an hour to the journey time.
The M6 route, which goes around Birmingham, between Manchester and Liverpool and on to Carlisle, offers at least dual-carriageway driving the whole way. Either way, it takes around 8 hours to get from London or Cardiff to Edinburgh or Glasgow.
By Ferry
From Edinburgh or Glasgow there are a few options: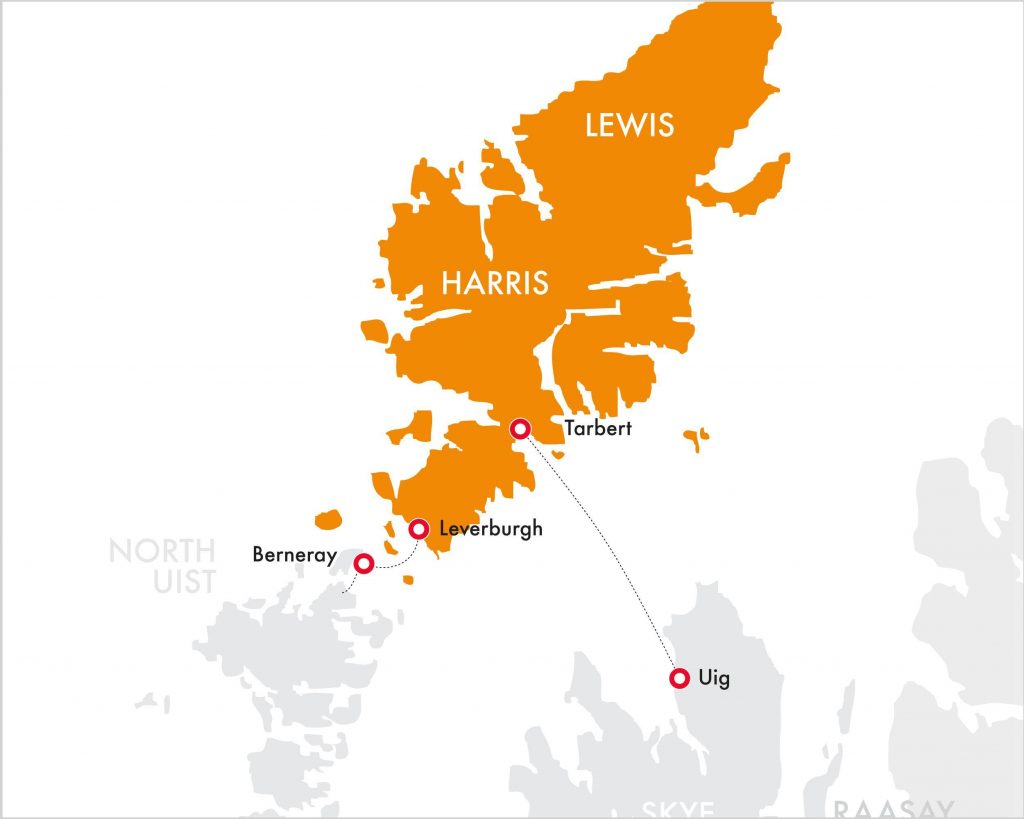 You can go for Ullapool (direction Inverness) to take the ferry to Stornoway
Another scenic route branche of at Dalwhinny, Spean Bridge, Isle of Skye, to the ferry at Uig or the westside Fort William, Glencoe, Isle of Skye, Uig, ferry to Tarbert. Glasgow- Inverness (3,5 hrs), Inverness-Ullapool (1,5 hrs) Ullapool-Stornoway ferry (1 3/4hrs), Stornoway-Northton (2,5 hrs).
By Air
In addition to regular carriers such as British Airways and BMI, Scotland is well served by the budget airlines operating from airports around London and from other regional hubs.
Flying is quicker than travelling by train or coach if you're heading out to the Highlands and Islands, though if you add on the time spent getting to and from the airport and checking in, the whole experience doesn't save you as much time as you might think, especially on journeys through the big London airports.
Airfares are only competitive on popular routes such as London to Edinburgh and Glasgow, and, again, if you add on the cost of travel to and from the airport (and remember to include airport tax), the savings on the same journey overland are often minimal. When flying with the same operator all the way to Stornoway airport ( like BA, BMI, KLM) they guaranty you will not miss the the connecting flight.
You can fly from Edinburgh, Glasgow, Inverness, Aberdeen and Benbecula, directly to Stornoway Airport. At the airport you can also rent a car.
Taxis are available at the airport and in the town.
The airport bus service runs at regular intervals throughout the day.
Please contact +44 (0) 1851 702256 for the latest schedules.
By Train
Glasgow and Edinburgh are both served by frequent direct train services from London, and are easily reached from other main English towns and cities, though you may have to change trains en route. National Express East Coast trains depart from London King's Cross and run up the east coast via Peterborough, York and Newcastle to Edinburgh, with some going on to Glasgow, Aberdeen or Inverness, while Virgin trains run up the west coast from London Euston via Crewe, Preston and Carlisle to Glasgow. Overnight sleeper services also operate from a number of Scottish cities via the west coast route to London Euston.
There are a number of long-distance direct services to Scotland that begin from outside London: Virgin runs services from Birmingham to Edinburgh or Glasgow while the CrossCountry service links Cardiff, Paignton, Penzance, Bournemouth and Brighton with Glasgow, Edinburgh and Aberdeen via Birmingham. First TransPennine Express operate direct services to Edinburgh and Glasgow from Manchester Airport via Manchester, Preston, Lancaster, Oxenholme Lake District and Carlisle.
Journey times from London can be as little as 4½ hours to Edinburgh and 5 hours to Glasgow; from Manchester or York, knock off about 2 hours; from Bristol add about 2 hours. Beyond Edinburgh or Glasgow, 3½ hours to Inverness. By rail, a very scenic route to Kyle of Lochalsh, you can continue your travel by coach too. From there by coach to Uig. Ferry Uig-Tarbert, bus from Tarbert to Northton.
By Coach
Inter-town bus services (known as coaches throughoutBritain) duplicate many train routes, often at half the price or less. The frequency of service is usually comparable to the train, and in some instances the difference in journey time isn't that great; buses are also reasonably comfortable, and on longer routes often have drinks and sandwiches available on board. Buses run direct from most British cities to Edinburgh, Glasgow, and Inverness. From there either to Ullapool to take the ferry to Stornoway, from there the bus to Northton (Isle of Harris) or to Uig on the Isle of Skye to take the ferry to Tarbert. From Tarbert the bus to Northton.Taxis are available at the airport and in the town and from Tarbert.The airport bus service runs at regular intervals throughout the day.Please contact +44 (0) 1851 702256 for the latest times.